Dark Souls: Prepare To Die Edition [Online Game Code]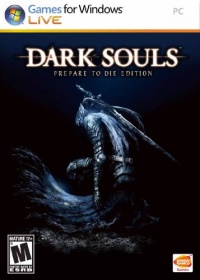 $29.99
Extremely Deep, Dark & Difficult - Unforgiving in its punishment, yet rewarding for the determined - learn to strategize freely and conquer seemingly impossible challenges.
Fully Seamless World - Explore a completely integrated world of dark fantasy where dungeons and areas are seamlessly intertwined, with great height.
Network Play - Players may cross paths with one another, invading each other for PVP battles, or to play co-op and take on giant boss encounters as a team.
Flexible Character Development & Role Play - As the player progresses, they must carefully choose which of their character?s abilities to enhance as this will determine their progression style.
Community - See other real players and empathize with their journey, learn from seeing how others died, find and leave messages for your fellow players; helping them or leading them into death.
NOTE: The use of this game requires additional hardware, specifically a PC-compatible game controller. Several of our customers have reported incompatibility with standard input devices like keyboard and mouse.
No properties for this product.
Related Products