DK Eyewitness Encyclopedia of Nature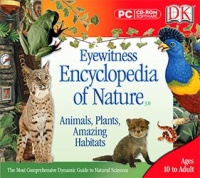 Dorling Kindersley Multimedia - DK
$19.99
(Ages: 10 to Adult) Animals, Plants, Amazing Habitats
A comprehensive and dynamic guide to hundreds of species of animals and plants and the habitats in which they live.
More than 1,800 article screens and pop-ups provide a wealth of detailed information!
Learn about plant and animal cycles and ecosystems
Windows XP, Vista, Win 7
No properties for this product.
Related Products