EZOPower 5200mAh Pocket Size External Battery Pack High Capacity Power Bank Charger 1A output with LED Flashlight for iPhone 5 4 4s, Samsung Galaxy Mega 6.3 I9200, Galaxy S IV / S4, Note 2 II N7100, HTC one M7, Nokia Lumia 520, BlackBerry Z10 Q10 - (Black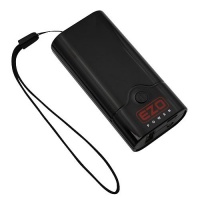 $49.99
Brand New EZOPwer External Backup Battery. Size is thin and lightweight, can easily slip into your pocket.
convenient, portable, and compact external rechargable back-up battery
Compatible with most portable devices (Mobile Phones, Music Players, Portable Gaming Devices, Digital Readers, etc.)
Charges via included USB cable + Includes interchangable charging tips such as mini USB, micro USB, and more for your convenience. Recharge battery with PC/Laptop USB port. Rechargeable cable provided.
Package include battery, USB cable & adapters pin. Note: Please use your own cable for APPLE®, iPhone®/iPod® tips are not included as Apple® has the patent.
No properties for this product.
Related Products