Infant's, Toddler's & Girl's Button Mary Jane Shoes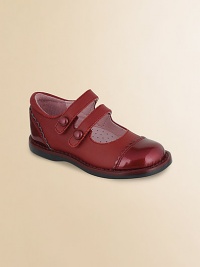 $54.00
A wearable look defined in supple leather, trimmed with shiny patent leather and double straps across the top.
Leather and polyurethane upper
Concealed grip-tape strap closure
Rubber sole
Padded insole
Leather lining
Imported
Please note: It is recommended that you order ½ size smaller than measured. If your child measures a size 7.0, you may want to order a 6½.

Size: 9 (TODDLER), 8.5 (TODDLER), 8 (TODDLER), 10 (TODDLER), 6 (BABY), 12 (CHILD), 10.5 (CHILD), 6.5 (BABY), 9.5 (TODDLER), 11.5 (CHILD), 7.5 (TODDLER), 5.5 (BABY), 7 (BABY), 10 (TODDLER), 10.5 (CHILD), 7 (BABY), 7.5 (TODDLER), 8 (TODDLER), 9.5 (TODDLER)
Color: BROWN, RED, RED
Gender: Female
Age: Kids, Adult
Related Products