Pasolini Movie Suit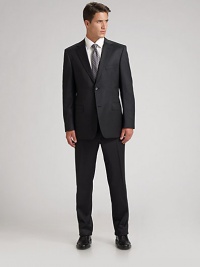 $795.00
Impeccably tailored in tropical-weight wool with a hint of stretch for a perfect fit and elegant drape. Dry clean. Made in USA.
JACKET
Two-button front
Natural sloped shoulder expression
Contoured through the waist
Side vents
Fully lined
PANTS
Flat front
Zip fly with double bar
Belt loops
Lined to the knee
Gradual inseam
Please note:
Alterations are available in all Saks Fifth Avenue stores.
Size: 44 L, 40 L, 50 R, 42 R, 42 S, 46 R, 48 R, 44 S, 36 S, 36 R, 46 L, 44 R, 42 L, 40 R, 40 S, 38 S, 38 R, 44 L, 40 L, 50 R, 42 R, 42 S, 46 R, 48 R, 44 S, 36 R, 46 L, 44 R, 42 L, 40 R, 40 S, 38 S, 38 R, 36 R, 38 R, 38 S, 40 L, 40 R, 40 S, 42 L, 42 R, 44 L, 44 R, 44 S, 46 R, 48 R
Color: NAVY, CHARCOAL, BLACK, BLACK, CHARCOAL, NAVY
Gender: Male
Age: Adult
Related Products