Set of 2 - Bella Fascini Dot Twist European Charm Bracelet Bead - Threaded Stopper Spacers - Solid Sterling Silver - A Perfect Fit for Pandora Chamilia Moress and All Compatible Brands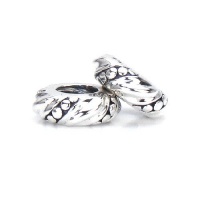 $49.00
Only at Bella Fascini - European Charm Bracelet SPACERS - STOPPERS with Threaded-Core
Superior Quality Sterling Silver Charm Beads - Why Pay More?
Fully Compatible with Troll, Pandora, Chamilia, Bella Fascini, Ohm, Zable, Biagi, Kay's Charmed Memories, Kohl's Individuality, Zale's Persona, Bacio and more
Largest Selection of Superior Quality European Bead Charms at Reasonable Prices!
Use Bella Fascini Link Above for More Great Exclusive Threaded Spacers
No properties for this product.
Related Products